What is a Rim Blade Vertical Shaft Aerator?
What is a Rim Blade Vertical Shaft Aerator?
Thinking about how to control and limit pollution? Treating wastewater, before having it discharged into the receiving water outlets is the most efficient way to do it. Wastewater is the liquid end product or by-product of a domestic, municipal or industrial activity. The purpose of wastewater treatment is to make the liquid waste better in quality, so that when it is released into the environment it doesn't harm the environment.
The wastewater treatment can be done in various ways and must pass three stages in the process. In industrial and municipal wastewater treatment, aeration is the part of the stage known as the secondary treatment process and the equipment used here is called surface aerators.
By Jas Engineering designs, manufactures, installs, maintains and services every piece of aeration device, including surface aerators that include, among others, the rim blade vertical shaft aerator. This equipment is ideal for the effluent oxidisation by transferring oxygen from the atmosphere and also for creating the necessary movement of air and water.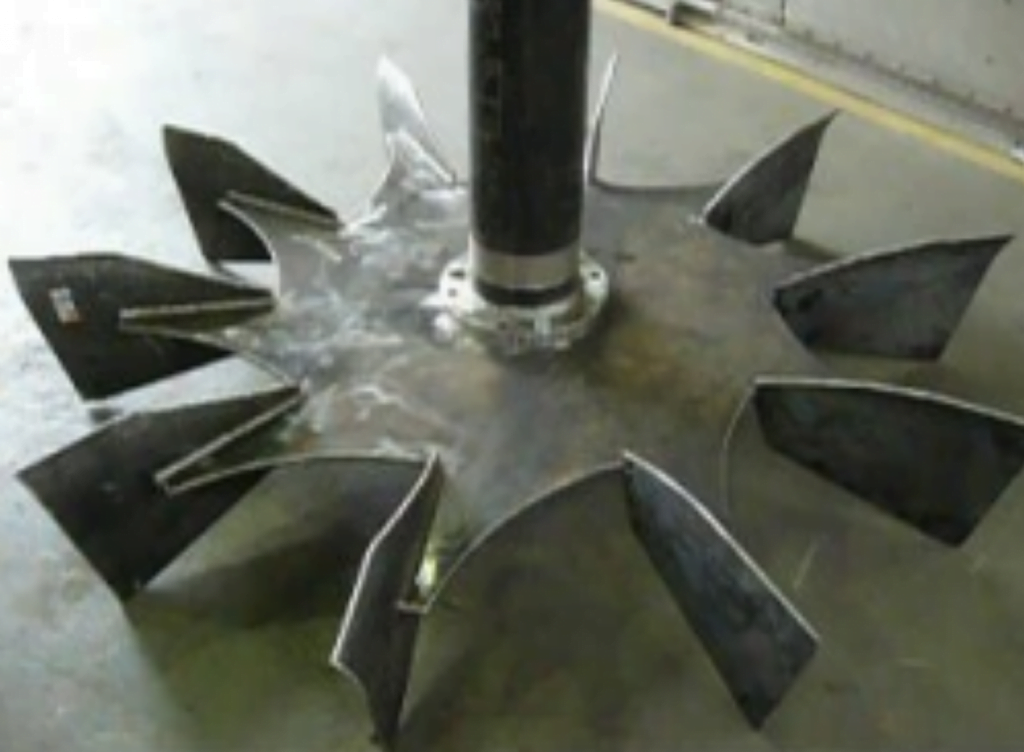 Using the rim blade vertical shaft aerator offers several advantages, including the following:
high pumping capacity, suitable for low and high energy applications
stable wave formation with the least erratic splashing and insignificant airborne mist
no bearing in contact with the wastewater
fully accessible, with no need to drain the tanks
rag free during operation
suitable for all applications – tanks and lagoons
great range of oxygen input
The By Jas rim blade vertical shaft aerator and all the other aerators being supplied to clients can deliver all the mixing that you need for an efficient wastewater treatment. The splash is very minimal, so there is no issue regarding contamination, as the mixing keeps the particles contained within the wastewater. The surroundings are kept clean and there are no possible pollutants. This product can also be used in ponds, reservoirs, and lakes for odour and algae control.
Our aerators are engineered, to meet all your unique wastewater treatment needs. When we work, we work with you; with our clients, in mind. We want to improve your wastewater quality and to minimise your operational expenses, by tailoring our aerators, to your range of applications. These aerators are made to be hard-wearing, able to withstand wear, damage or pressure, resulting in trouble free operation for the life of the equipment.
We have a team of experts that are committed to give you tailor made solutions, through our wide range of aerator wastewater treatment plants and equipment. All our equipment is manufactured right here in Australia. We pride ourselves, in being dedicated to satisfying your expectations, when it comes to quality, attention to details and care for our customers. We are focused on producing aerators that are ready to be used and we also prioritise reliability and safety. You can trust that we will work, within your budget range and deliver on our promise, to meet your required delivery date, without compromising on the quality of equipment and importantly, save you money on running costs.
Contact us, if you're interested in installing our rim blade vertical shaft aerator or any other type of aerator for your wastewater treatment facility. Call us on (03) 5979 1096. You can also visit us at www.byjas.com.au, for any additional information you may need.
We cover all areas across Australia – regional areas, regional town centres, the main capital cities and also all other areas.
Winery wastewater is generated from the winery's...
Why Choosing a Wastewater Equipment Manufact...