How do Wastewater Aerators Work?
How do Wastewater Aerators Work?
Because of the great impact brought about by nutrient rich wastewater to the relationship between living things and their physical surroundings, regulations are being enforced by governments to control the number of contaminants in wastewater discharge. In compliance with these rules, all producers of liquid waste; whether residential, agricultural, commercial and industrial should carry out wastewater treatment processes.
Activated sludge treatment is the most common type of treatment that removes nutrients in wastewater. This process starts with the use of aerators, equipment that promote the breakdown of nutrients.
Aerators provide oxygen to microorganisms, so that wastewater can be treated and stabilised.  Oxygen is essential to bacteria; because it allows these microorganisms to break down the organic matter. So, when oxygen is supplied; biodegradation happens and the pollutant components are broken down. This process is called wastewater aeration.
Aerators are used in municipal and industrial wastewater treatment. The process is part of the treatment stage called the secondary treatment. Aeration in an activated sludge treatment; works by having air pumped into the tank and this encourages the growth of bacteria in the liquid waste. The bacteria feeds on the organic matter and they form a flock that can settle out most easily.
There should be enough oxygen in the liquid waste, so as to enable the microorganisms to biodegrade the organic matter in a reasonable time. When oxygen is not supplied sufficiently, degradation will occur under septic conditions, which is slow and giving off a bad smell, besides slowing down the conversion of pollutants. It also makes the wastewater more difficult to treat.
Aerators have a big role to play in the continued proper operation of the wastewater treatment system. With a well-designed aeration system, you can achieve a high level of water quality. When oxygen is plentiful and equally spread, it results in an effective, rapid and economically viable wastewater treatment.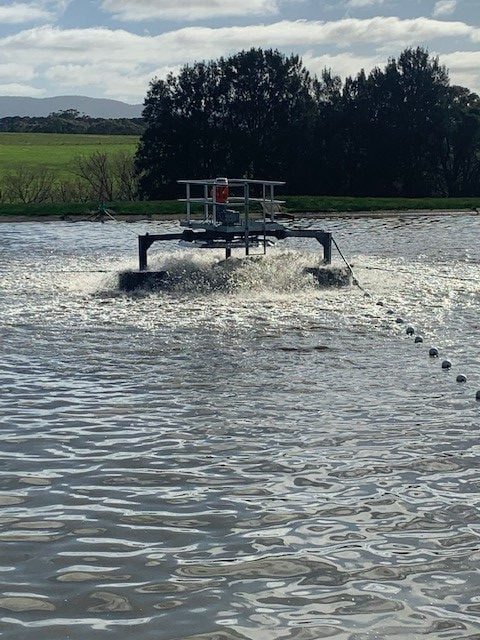 By Jas Engineering supplies, installs and maintains aerated wastewater treatment systems, including aerators. We are the leading manufacturer of wastewater aerated treatment in Australia. Our surface area aerators are used in the activated sludge process of sewage treatment and they are designed for efficiency in transfer of oxygen to water.
Specifically engineered to perform consistently well and to last for a long period of time, our aerators are available as floating units or for conventional bridge mounting or light access bridges. For activated sludge treatment, these units are installed in simple round or rectangular tanks. The system can be easily suitable for any acceptable method of wastewater treatment plant operation.
For more information or queries about our aerators, feel free to contact us. We will be sure to provide you with right information from our skilled and knowledgeable team. We can give beneficial advice and provide you with superior sewage treatment systems and products. We also carry out repairs and maintenance of your system and equipment.
Please Contact us (03) 5979 1096 or visit us at www.byjas.com.au
We service right across Australia, the main capital cities, regional town centers and all other regional and remote areas.
Winery wastewater is generated from the winery's...
Why Choosing a Wastewater Equipment Manufact...